Preventive

Care

Preventive dental care is important throughout your life, no matter your age. By practicing good oral hygiene at home and scheduling regular checkups with your dentist, you can help keep your smile bright and healthy for many years to come.

Here are a few simple ways you can prevent the build-up of plaque and cavities:
Brush your teeth at least twice a day with a soft-bristled toothbrush. Use a fluoridated toothpaste to remove food particles and plaque from the tooth surfaces. Also be sure to brush the top surface of your tongue; this will remove any extra plaque-causing food particles, and help keep your breath fresh!
Clean between your teeth by flossing at least once a day. You can also use a mouthwash to help kill bacteria and freshen your breath. Decay-causing bacteria can linger between teeth where toothbrush bristles can't reach. Floss and mouthwash will help remove plaque and food particles from between the teeth and under the gum line.
Eat a balanced diet, and try to avoid extra-sugary treats. Nutritious foods such as raw vegetables, plain yogurt, cheese, or fruit can help keep your smile healthy.
Remember to schedule regular checkups with your dentist every six months for a professional teeth cleaning.
Ask your dentist about dental sealants, the protective plastic coatings that can be applied to the chewing surfaces of the back teeth where decay often starts.
If you play sports, be sure to ask your dentist about special mouth guards designed to protect your smile.
If it's been six months since your last dental checkup, then it's time to contact our practice and schedule your next appointment!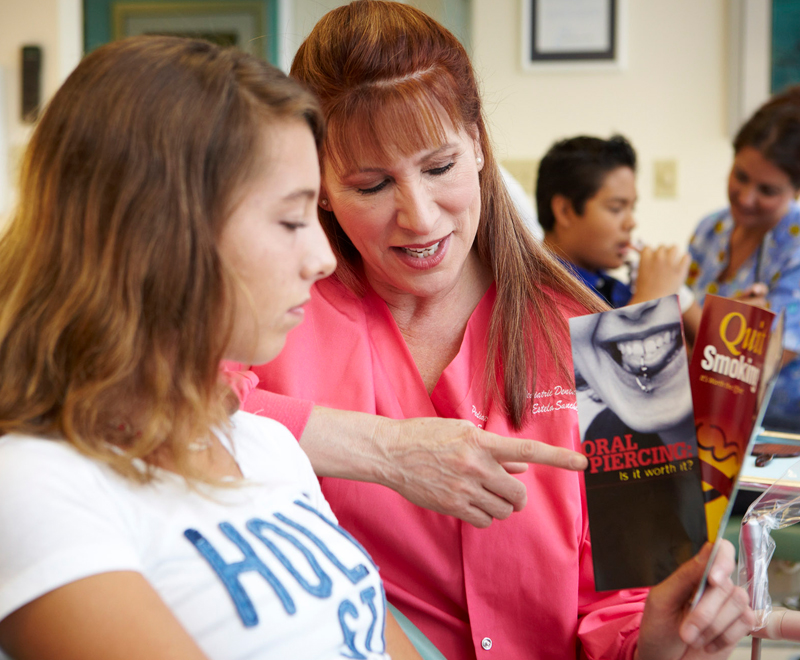 Share Your Experience with Us
See our practice through the eyes of our patients! Share your experiences with
Pediatric Dental Specialists using the hashtag #PDSLongBeach
Patient

Testimonials
Everyone at your office is very friendly and professional, caring and understanding. Your work to accommodate children with special needs is highly commendable and appreciated tremendously.
Andrew K.
Dr. Cortez is amazing! His gentle nature makes going to the dentist a joy for both of our kids! The dental hygienists are quick and efficient with cleanings, so the kids are finished before even thinking about it. The office staff is amazing as well!
Isabella L.
Dr. Sanchez is a superb dentist who took the time to explain to my child exactly what she needed to do to maintain acceptable oral health. Words from a caring professional work better than 'nagging' from mom! Thank you!
Elena M.


Facebook
Follow us on Facebook to learn more about our practice.